What is GlucosCare herbal Tea ?
GlucosCare® Tea is scientifically formulated from 2 plants – Gymnema Sylvestre and Camellia Sinensis.
Gymnema Sylvestre (which literally means "Sugar Destroyer" in Sanskrit) is found primarily in the forests of Australia and South Asia. This natural herb has been used in South Asia for more than 2000 years as a traditional formula to control blood sugar level.
Camellia Sinensis (commonly known as green tea), is added for its antioxidant benefits in cell and tissue maintenance.

The Science behind GlucosCare® Tea
GlucosCare® Tea Molecules and Glucose Molecules are similar in molecular structure. Thus, it will be able to block parts of the sugar receptors.
GlucosCare® Tea reduces the absorption of sugar in the gastro intestinal track. Therefore, when GlucosCare® Tea is consumed after a meal, the presence of the GlucosCare® Tea acid molecules in the intestine will effectively block some of the glucose molecules from being attached to the sugar receptors, reducing the amount of sugar the body absorbs.
This in general, lowers the amount of calories consumed by the body, which explains why GlucosCare® Tea also makes a healthy alternative for those who are diabetics or on diet or weight management.

How to consume GlucosCare® Tea?
Put 1 tea bag into a mug / cup of 350ml
Pour hot boiling water
Brew it for 5 minutes
Consume hot or warm
* We recommends 1 tea bag after each meal. Add a slice of ginger or lemon to enhance the flavour. You can add fresh milk too!
* For those who wants some sweetness in their tea, they can add GlucosCare® Stevia to sweeten it!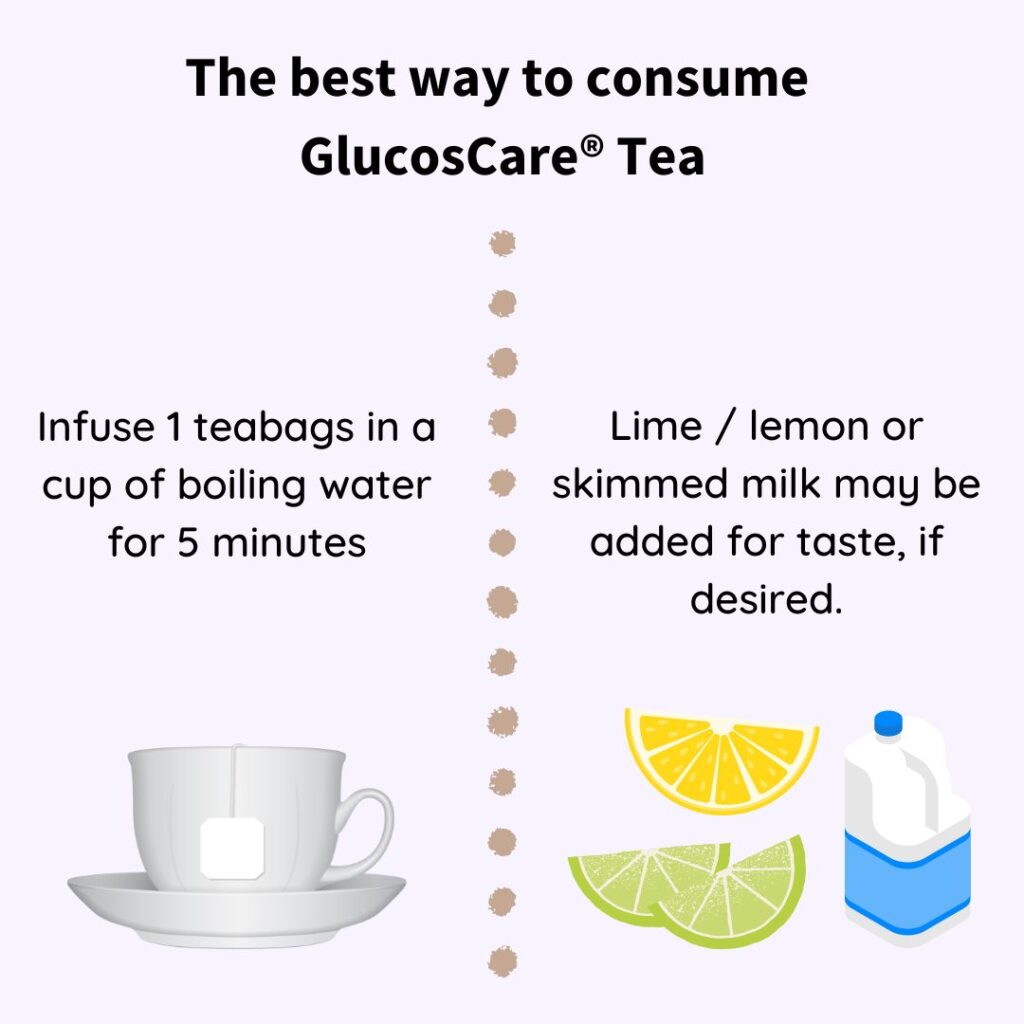 Effectiveness test with Clinical Papers
We are probably the only Herbal Tea in the World that conducts both human trials and toxicity tests in Singapore and various countries.
– Clinical trials done in Singapore, Malaysia, China, Hong Kong & Serbia
– Toxicity & stability tests done in Hong Kong
Common Questions for GlucosCare Tea